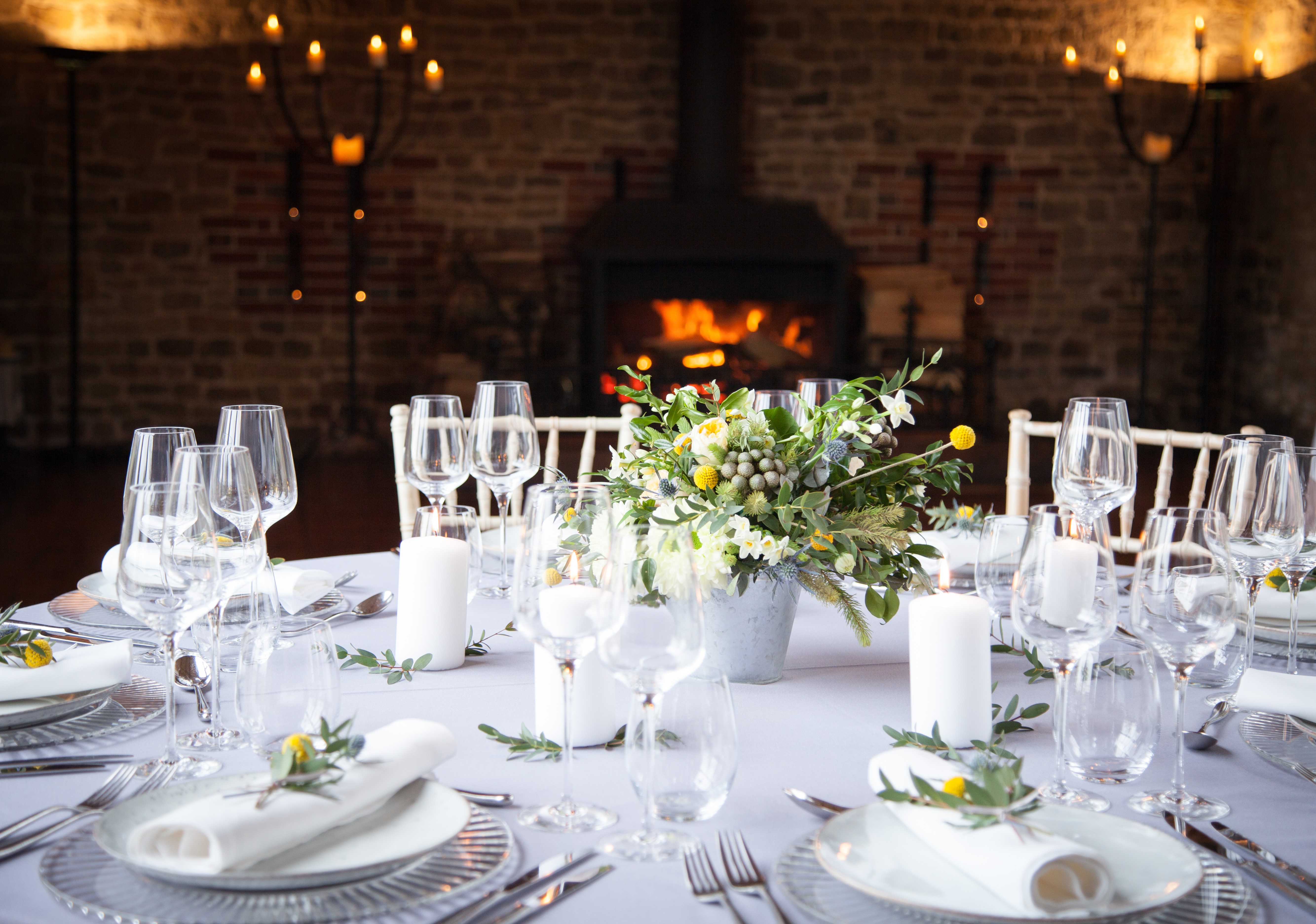 Stepping Into Spring – Bartholomew Barn Photoshoot
After having endured the doldrums of what felt like the longest Winter, Spring has finally Sprung! Cold and dull days are beginning to give way to sun and fresh air, vibrant flowers are appearing and there's blossom on the trees. With Summer just around the corner, this can only mean one thing… Wedding season is on its way!
Recently we had the pleasure of shooting at Bartholomew Barn and enjoyed creating some lovely Spring looks, working alongside some very talented suppliers. To provide you with even more options, Bower Events assisted us in styling three different table designs, incorporating a stunning spring colour palette and décor. Keep reading to see what we put together…
In terms of traditional Spring wedding colours, green should always be present.
Webb and Farrer have really brought this look to life with their beautiful flower centrepiece incorporating green, yellow and lilac colours, which are all part of a spring colour palette and complement the subtle grey tablecloth. (To create this look Webb and Farrer have used Craspedia, Vuvuzela Rose, Brunia, Blue Thistle and Narcissi)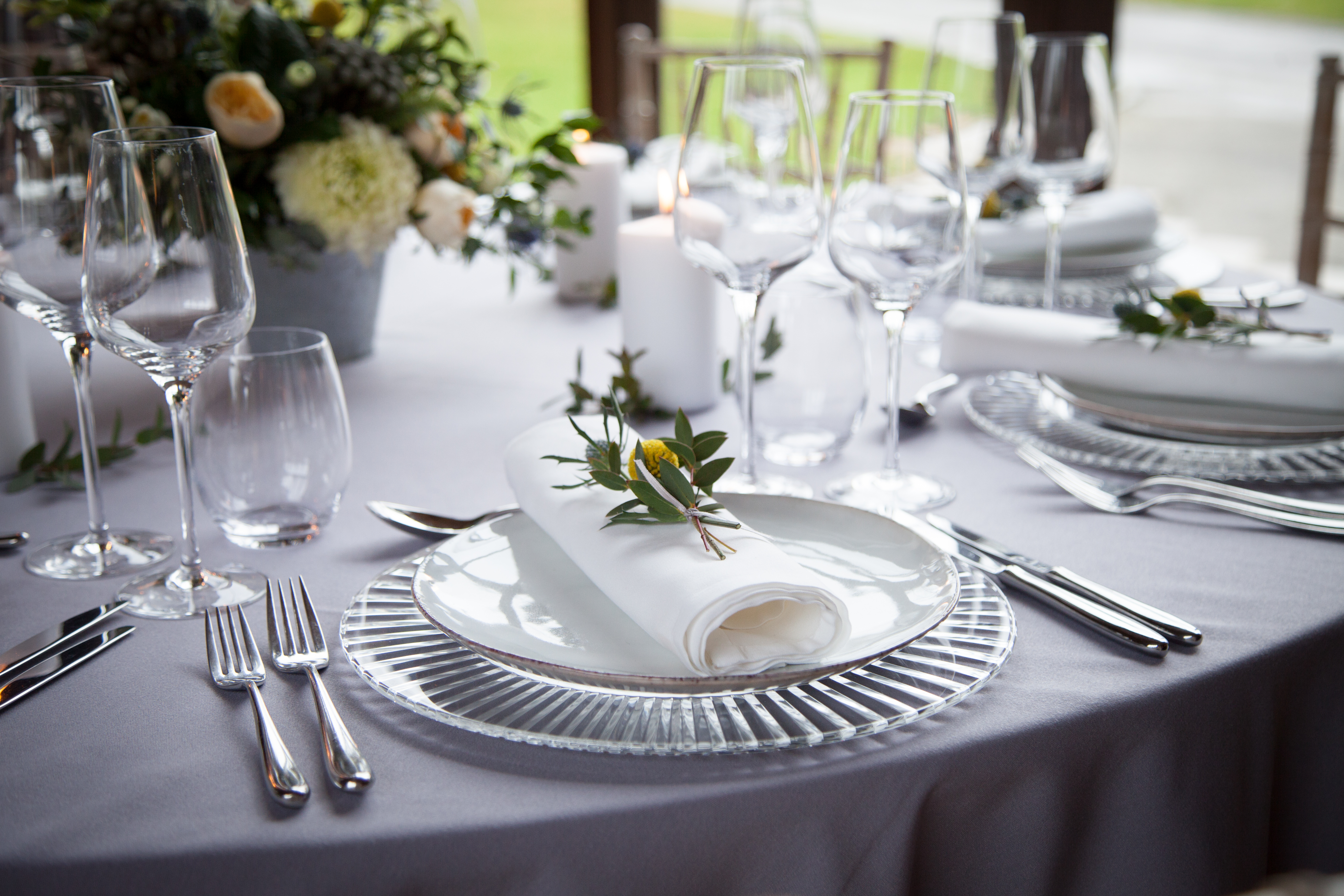 Our New Sand Plate presented on our stunning Diva charger plate looks so elegant, alongside our Sienna cutlery and New Juniper glassware range.
Be sure to incorporate these amazing items into your arrangement when planning an upcoming wedding!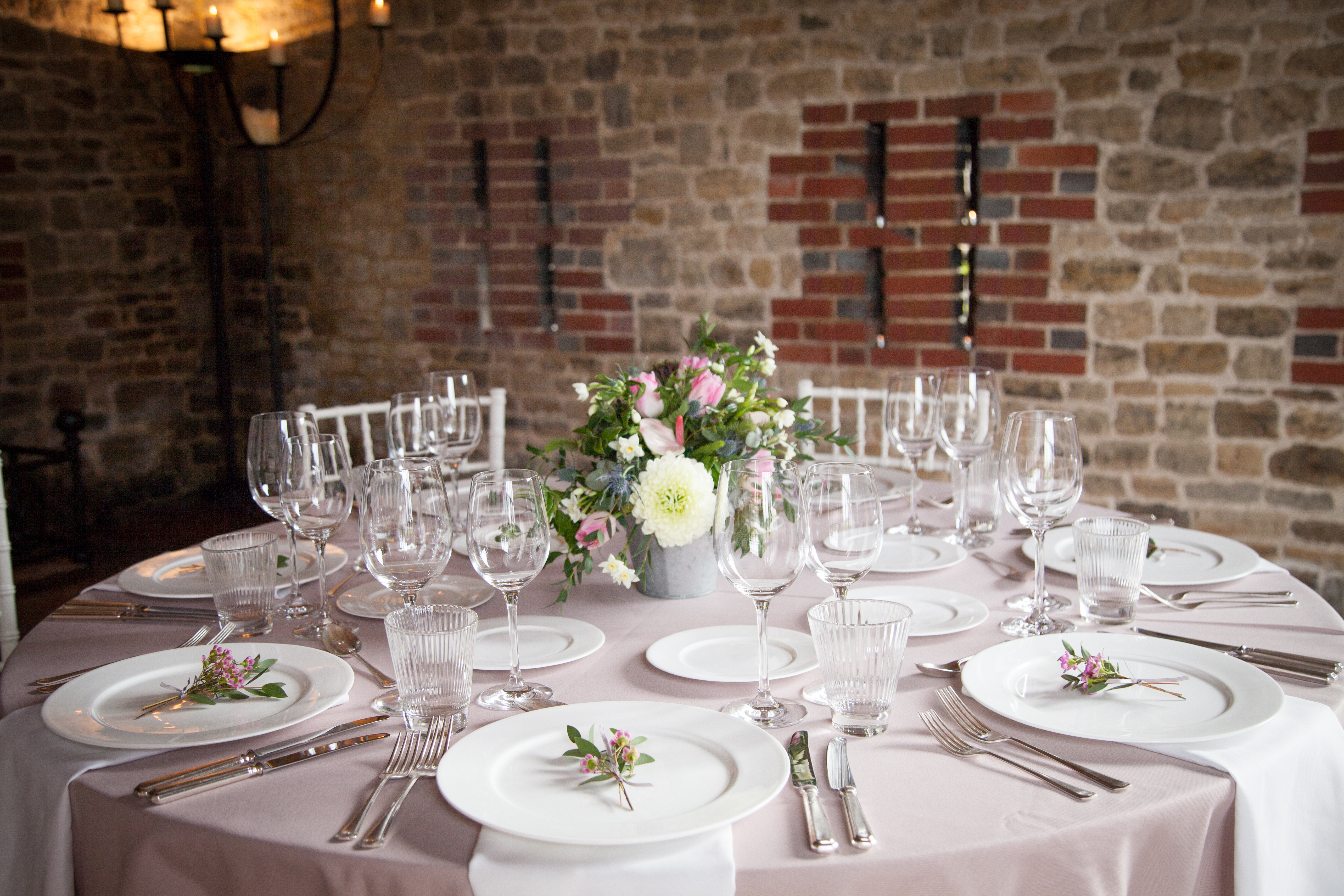 When using plain white crockery, adding a touch of colour is very important. There are various colours which suit different themes and it was very important for us to stick with our spring colour palette. Table linens provide you with an excellent means to add a bit of much-needed colour to your overall arrangement. They can work in combination with other items and of course, linens are able to ''tie'' the entire feel of the room together.
This beautiful taupe cloth looks so pretty with our White Camelot chair, Macy bone china, Grecian cutlery, Classico glassware, Diva tumbler and White napkin. Adding small detail, such as these Little and Large Events name cards makes such a huge difference to the whole setting. Not to mention Webb and Farrers wonderful flowers in the centre completing the look! (Webb and Farrer have incorporated tulips, blue thistle, narcissi and chrysanthemum blooms into this setting)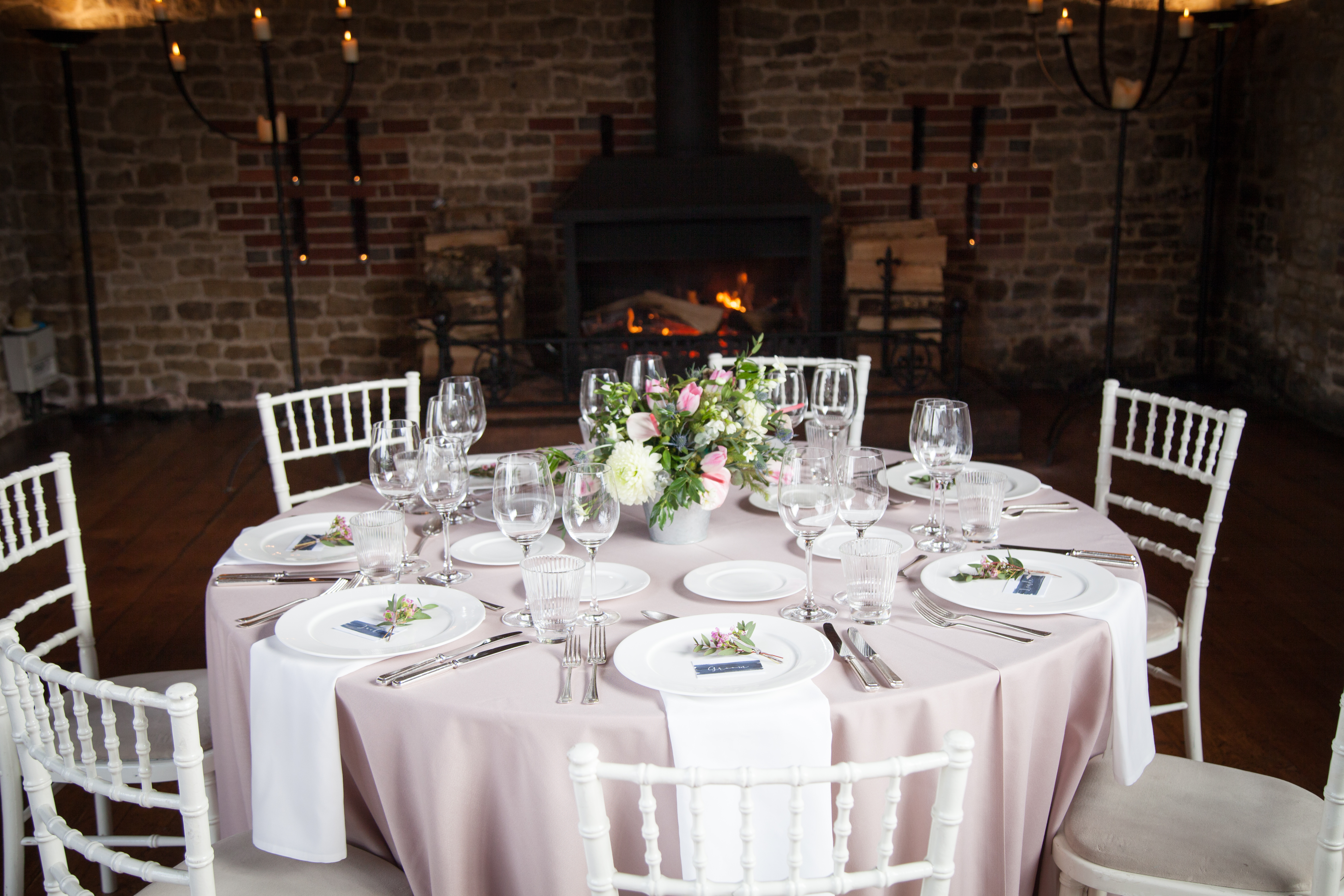 The subdued tones associated with these colours will provide your guests with an organic and all-natural experience. They will not overpower the environment and once again, they are perfectly suited for a Spring or Summer Wedding.
If you have been looking for a tasteful and yet understated appeal, you have come to the right place.
These trestle tables represent the perfect synergy of visual form and function. With them being 4' wide, they provide plenty of room for all your guests to sit round the table. Covered with a plain white cloth, Webb and Farrer's green foliage with yellow craspedia, To Have & To Hire's silver tealights running down the middle and Place Settings Limed Chiavari chairs, this is so simple, yet so effective.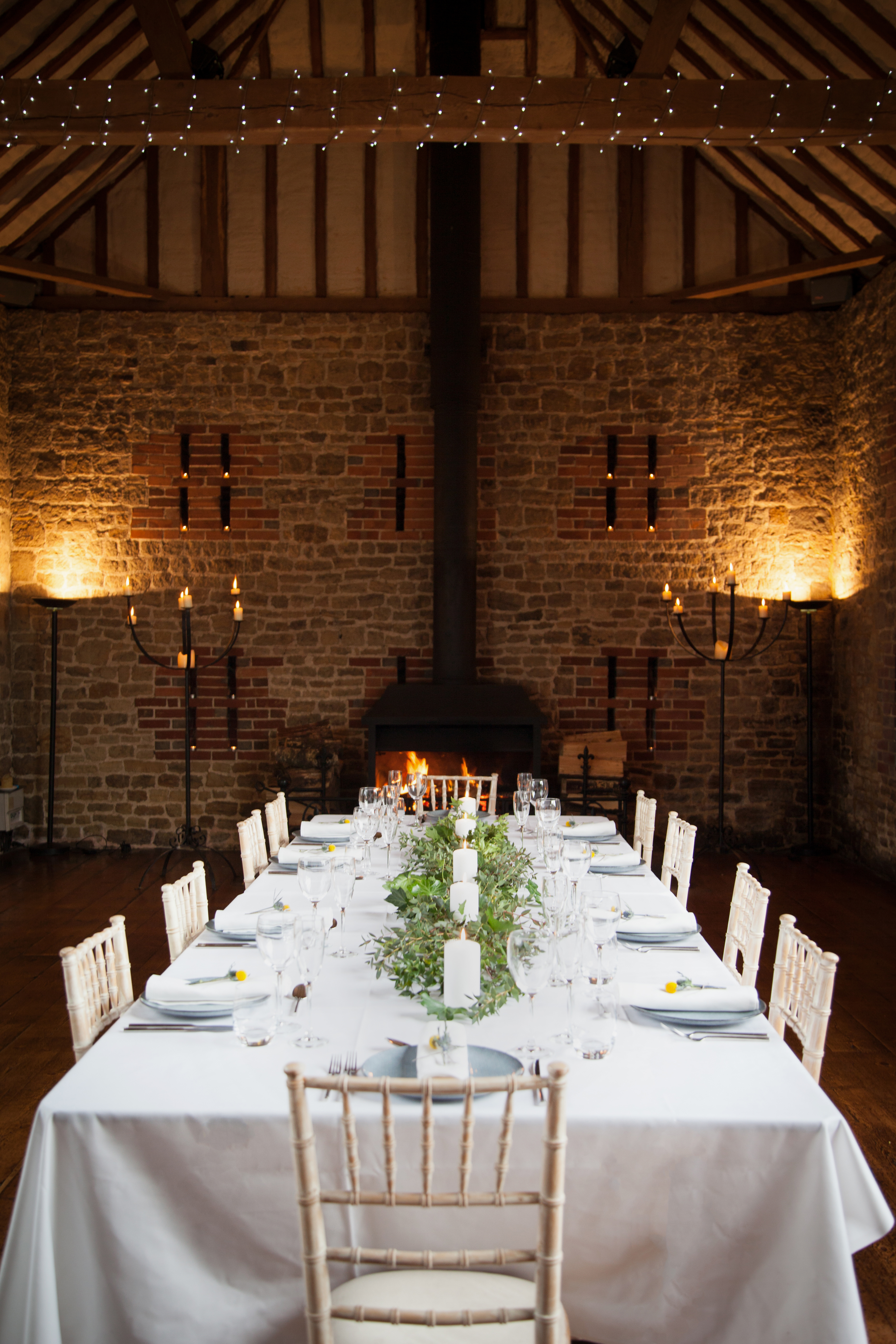 We love the colour of our New Sea Plates and they look fantastic on the table with our Signature glassware and Infinity cutlery! When paired with select greenery or bright colours, these items will make a lasting impression.
How gorgeous is Bartholomew Barn's fireplace roaring in the background?! Wow, just incredible!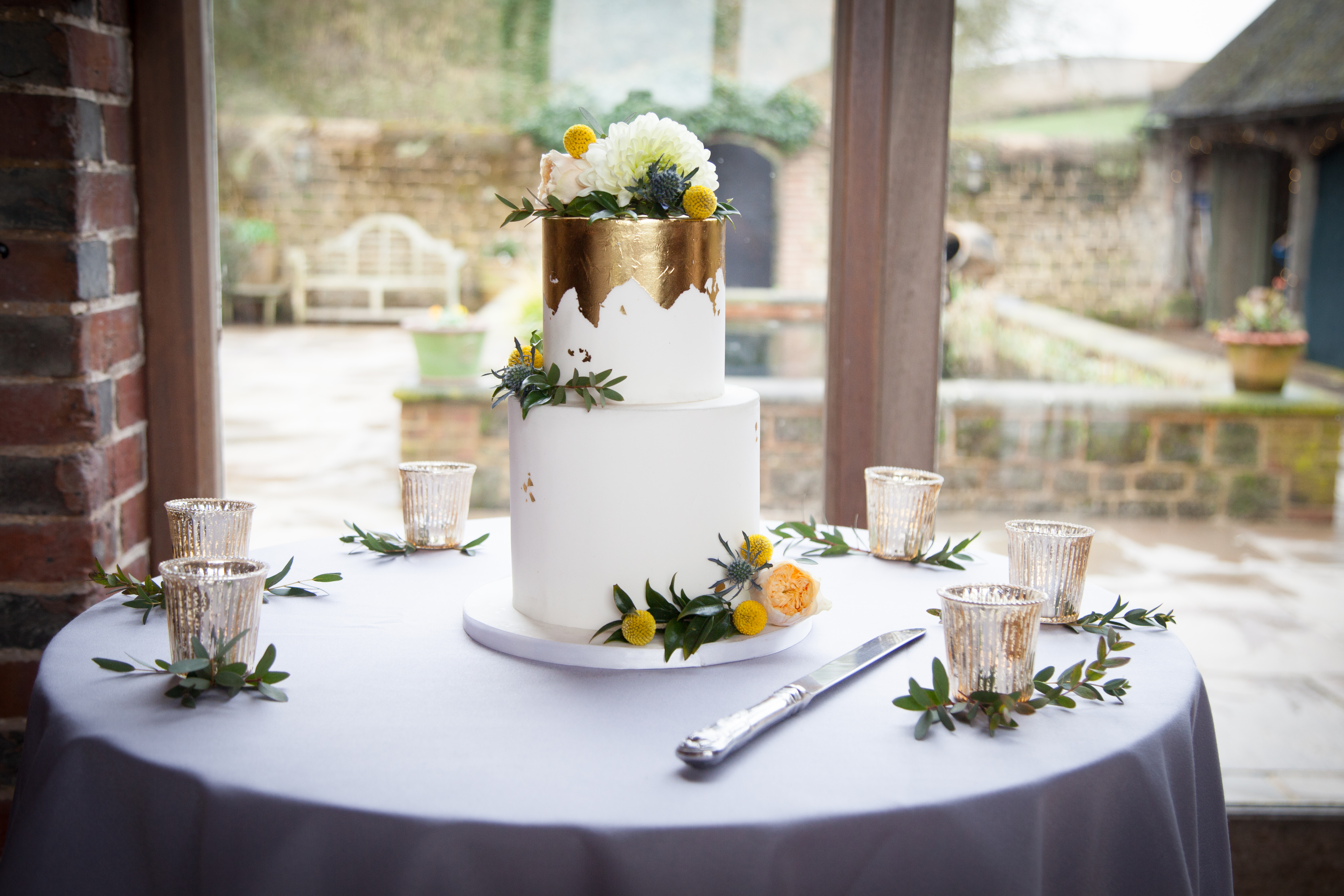 At most Weddings or Events it is usually traditional to have a cake and we thought how can we not include this in our shoot? The very talented Pudding Fairy gave us a couple of her beautiful cakes to feature in this Shoot. Webb and Farrer added their magic touch with their flowers and don't they look incredible! The cake table looks lovely decorated with To Have & To Hire's gold tealights placed around it.
Bower Events styled this shoot fabulously. They thought about every single small detail and did a wonderful job organising everything. We love the way Livi B Photography captured these photos. She really brought our vision to life and was so amazing to work with!
Place Settings Catering & Event Hire are happy to provide you with these gorgeous Spring options. We have many new and varied products for this Season. If you would like to see more, check out our website or give us a call, we'd love to be of help!
All suppliers involved in this photoshoot are listed below:
Livi B Photography – Photographer
Place Settings – Catering & Equipment Hire
Bower Events – Wedding Planner & Stylist
Little & Large Events – Stationary
We would like to say a huge thank you to everybody involved!